Mission Island Elder Care Conference
Maine AgrAbility is happy to be taking part in the Annual Mission Island Elder Care Conference.  AgrAbility collaborators from Alpha One an Maine Cite will be presenting information about technology for elders and their caregivers.
Save
Save
Safety Messages & Signs
Information provided by the Southwest Center for Agricultural Health, Injury Prevention and Education, written by  Nykole Kafka Vance, MS, CEP, CHES
Many safety messages use the words Caution, Warning and Danger. Each sign has a color assigned to it to get your attention. There are universally accepted colors associated with each sign: caution signs are yellow, warning signs are orange and danger signs are red. Following are safety messages and their meanings, each of these signs will have a written message, and perhaps a picture, about an unsafe condition.
♦♦♦♦ 

CAUTION means you need to be careful. Follow the directions on the sign or you could get hurt.
♦♦♦♦

  WARNING is more serious and means you need to follow the directions on the sign or you could be badly hurt or killed.
♦♦♦♦

  DANGER is the most serious safety message. If you don't follow the directions, you will be seriously injured or killed.
Manufacturers put important safety messages on tractors, machinery, and chemicals. You can also find them in the operator's manual. It is critical to read, understand and follow safety messages.
What's happening with Maine AgrAbility?
On August 22, Maine AgrAbility presented AgrAbility program information to 32 veteran beginning farmers . The farmers were participating in the Armed to Farm training.  The United Farmer Veterans of Maine hosted the week long event.
AgrAbility staffed an educational display at Maine Farm Days in Clinton, on August 23-24 at Misty Meadows Farm.  This event gives the public and farmers an opportunity to visit a working farm, see the operation of new equipment and technology.  there were over 50 service providers and vendors at this event.
Project Director Richard Brzozowski distributed the newly published impact publication about AgrAbility to the 30 attendees at the August 2017 Agricultural Council of Maine (AGCOM) meeting. He also reported to AGCOM that AgrAbility was involved in a short presentation at the Armed to Farm course.
For AgrAbility activities from across the nation, check out: http://news.agrability.org/2017/09/enote.html
Tractor Tire Inflation Safety
After a tragic accident in Cumberland County, PA, we are reminded about the importance of safety precautions when working on equipment. When working on tractor and equipment tires be sure to check for cracks and improper installation before inflating. Be aware of the proper tire pressure and have an accurate tire pressure gauge on hand when inflating tires. This slow motion video shows what happens when tires are over-inflated. It may be beneficial for your crew to write the appropriate tire pressure on all tires with a paint marker.
As a way to increase general farm shop safety, this farm shop safety checklist is a good resource for keeping track of equipment and tasks that need attention. Having good communication systems for reporting issues about needed farm equipment maintenance and malfunctions is essential in reducing safety risks and avoiding accidents.
Beginning Farmer Connections
From the MOFGA Bulletin Board 7/20/2017
What's happening with Maine AgrAbility?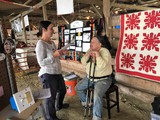 Maine AgrAbility staffer Ellen Gibson had a booth sharing program literature and resources to networks connections at the Maine Fiber Frolic, a two-day fair specializing in fiber and fiber animals in Windsor, Maine. The display focus was arthritis and hand strength. An OT student helped administer a survey on health issues that was collected and has also been offered online. Results will be shared in an article in the coming weeks.
---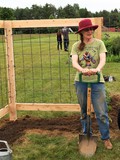 Maine AgrAbility presented a workshop in Union, Maine, at the Maine Farm & Homestead Day, on vertical gardening and accessible gardening. Participants learned how to construct a sturdy garden trellis in three sections. They also had an opportunity to try out ergonomic gardening tools, receive handouts about services, and harvest lettuce from a raised bed.
---
Staff participated in a bimonthly beginning farmer resource-providers network meeting at Wolfe's Neck Farm in Freeport, Maine. The meeting ended with a tour of a new dairy farm facility's portable milking equipment – a Dairystar MobiStar hydraulic milking parlor. It's an interesting concept that wasn't as "portable" as anticipated.
---
Lani Carlson joined several other AgrAbility state programs at the 2017 ISASH conference in Logan, Utah. Agricultural safety and health information was presented from national and international sources. Staff hope to develop state-specific farm safety programming in Maine from some of the excellent ideas, posters, and presentations.
Maine AgrAbility Builds Vertical Garden in Unity
A trellis-based vertical garden is now part of a display by Maine AgrAbility at the Common Ground fairgrounds to demonstrate accessible structures for gardeners with limited mobility.
The vertical garden was built June 17 in a workshop presented by Maine AgrAbility during Farm and Homestead Day at MOFGA. The annual free event offers hands-on workshops focused on sustainable living skills.
The vertical garden joins two raised bed gardens built by Maine AgrAbility in 2015–16 to demonstrate accessible options.
In this year's Maine AgrAbility workshop, participants learned how to construct a sturdy garden trellis in three sections. They also had an opportunity to try out ergonomic gardening tools, receive handouts about services, and harvest lettuce from a raised bed.
Vertical gardens are designed to provide a big yield in a small space and allow harvesting from a standing position, which is easier for people with arthritis and other physical limitations. The trellis-based vertical garden now at the fairgrounds was made with naturally rot-resistant cedar posts and cross pieces harvested in Maine, and sections of cattle panels available at farm supply stores. Materials for construction cost approximately $150.
Maine AgrAbility works with Maine farmers who struggle to continue their work due to injury, illness or disability. The USDA-funded program is a partnership between University of Maine Cooperative Extension, Alpha One, and Goodwill of Northern New England. Each partner brings its expertise and institutional insights to the challenges at the intersection of farming, health and employment.
Maine AgrAbility Addresses Challenges of Cheese-Making on the Farm at Appleton Creamery
AgrAbility staff member, Ellen Gibson, spent several hours on-farm at Appleton Creamery observing owner Caitlin Hunter at work to see how she could change her working routines to ease the stress and strain on her body and to determine which general ergonomic principles Hunter could incorporate to make her work easier. Read more at MOFGA's website.
Universal Design on the Farm
Disability is not a special condition of a few; it is ordinary and effects most of us for some parts of our lives.
If a design works well for people with disabilities, it works better for everyone. Universal design is a method of designing tools, buildings and environments to be usable by all people to the greatest extent possible. On April 28, 2017, Maine Cite hosted Maine AgrAbility to present the webinar "Universal Design on the Farm: Planning for Safety, Efficiency and Independence".
For more information on Universal Design visit our other page under Resources & Solutions: Universal Design.
Watch the recording:
Visit MaineCite:
Monthly Update on Maine AgrAbility
On March 2-4, Maine AgrAbility exhibited at the 3-day Fishermen's Forum in Rockland, Maine. This event hosts fishermen, gear suppliers, scientists, government and other stakeholders to collaborate on all things fishing: markets, resource status, regulations, the latest in technology, the environment and more. Maine AgrAbility's – FishAbility program featured Universal design as it applies to the fishing tools, vessels and work spaces.
Project coordinator Lani Carlson, attended the 2017 Maine Aquaculture R&D & Education Summit on Monday March 6th. Approximately 150 attended the event, representing every part of the aquaculture sector: growers, processors, regulators, managers, researchers, K-12 teachers, informal educators, NGOs, service providers, investors, and small business development support providers, to meet, exchange ideas, and explore innovative, cutting edge solutions for Maine's aquaculture industry needs.
On March 9th, Maine AgrAbility hosted a Cultural Diversity Training for staff, advisory council members, veteran farmers and Ag-service providers. The training was facilitated by Visions, Inc.
Maine AgrAbility staff had a great time learning and sharing information at the NTW in Knoxville. During the NTW, four Maine staff members presented three workshops: Keeping Kids Safe on the Farm, Universal Design on the Farm and Planning and Maintaining a Useful Farm Shop.
Interested in what's happening with other AgrAbility projects across the United States? National AgrAbility e-Note