AgrAbility News for October 2018
Maine AgrAbility Project News
On October 4th and 15th, Lani Carlson presented Maine AgrAbility project information to UMaine employees and Cooperative Extension stakeholders as part of Zoom event called the Extension Showcase for a UMaine Extension Dean candidate.  AgrAbility was selected as 1 of 8 programs to highlight the great work of Cooperative Extension.
---
On October 15, Ellen Gibson presented a "Gardening Forever" talk to Franklin County Extension Homemakers in Farmington. Ellen's presentation was part of their annual train the trainer programming.
---
Maine AgrAbility specialist Kelley Smith, COTA/L, ATP exhibited project information at the Defining Moments in Brain Injury  conference on October 16, 2018 in Portland. This annual one-day conference is designed to provide education and resources to people with brain injuries, their families/caregivers and those who serve them as professionals. The conference was very well attended and conference goers where very interested in talking with AgrAbility to gain resources for gardening adaptations and managing farm life with a brain injury.
---
On October 17, Lani Carlson had a radio interview with the Western Maine regional radio station (WKTJ) radio host. She talked about AgrAbility programming and available statewide resources.
---
Lani Carlson represented farmers and farm workers with disabilities perspective at the October 24th Mobility Solutions workshop in Portland. The workshop shared information, issues and potential solutions to address gaps in transportation for older adults, people with disabilities, immigrants and refugees.
---
During the 99th Annual Franklin County Extension Association meeting Lani Carlson presented an overview of Maine AgrAbility activities and mission (October 24).
Upcoming AgrAbility Workshops Across the Nation
Washington Regional Workshop
Mount Vernon, WA, December 5-6, 2018, at Washington State University Northwestern Research & Extension Center, Mt. Vernon, WA 98273. For more information and schedule click here.
The AgrAbility Virtual National Training Workshop (VNTW) has been scheduled for January 29-31. 2019. The VNTW consists of two webinars per day, and this year's sessions are planned for 12:00 p.m. EST and 3:00 p.m. EST.
AgrAbility National Training Workshop


Plans are underway for the 2019 AgrAbility NTW, which will take place March 25 -29 in Lincoln, Nebraska. Look for more details here and at www.agrability.org/ntw in the coming weeks.
Toolbox Spotlight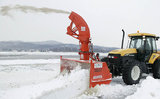 As winter becomes a reality in the Northeast, snow removal jumps to the forefront of many people's thoughts. Tractor Front-Mounted Snow Blowers and Tractor Rear-Mounted Snow Blowers can move large amounts of snow in a relatively short period of time.