AgrAbility News for February 2019
Maine AgrAbility Project News
Maine AgrAbility exhibited at the three-day Maine Fishermen's Forum in Rockland, Maine. This event hosts fishermen, gear suppliers, scientists, government entities, and other stakeholders, to collaborate on all things fishing: markets, resource status, regulations, the latest in technology, the environment, and more.
Maine AgrAbility's exhibit featured bath health with Mr. Lifty demonstrating proper lifting technique, back saving assistive technology, ideas and resources, and Napoleon (Bone-apart) to start an interesting conversation about FishAbility and the AgrAbility program.
---
Richard Brzozowski talked with blueberry growers in during the Wild Blueberry Conference on February 27 in Bangor.
---
Maine AgrAbility's work with youth in agriculture continues. As part of the pre-ETS programming, Sally Farrell presented a program on biosecurity to the students at Massabesic High School on Wednesday, 2/27. They are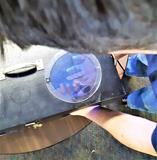 learning and preparing for a farm tour in the next month.
AgrAbility News from Across the Nation
The AgrAbility National Training Workshop is Approaching Quickly! The 2019 AgrAbility NTW has a robust offering of pre-conference sessions, tours, breakout sessions, guest speakers and post-conference tours! To see a full schedule, click here.
The National AgrAbility Project exhibited along with Life Essentials at the National Farm Machinery Show in Louisville, Kentucky, February 13-16. The exhibit included AgrAbility popups, brochures, case studies, and examples of what is possible thru assistive technology. Life Essentials exhibited a John Deere tractor with a pilot lift, an Action Track power wheelchair, and a Jiffy-Hitch with a PTO connector.
AgrAbility was listed by Foodtank as one of "14 Organizations Changing the Face of America's Farmers."
Toolbox Spotlight:
Organic is popular, but weed control is a challenge. As a substitute to using herbicides, the Red Dragon Backpack Flame Weeder is designed primarily for stale (pre-emerge) plant bed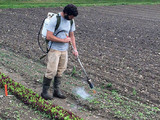 , between-row, and spot weed control. Its flame-control squeeze valve allows adjustment from a small, low-heat flame up to a 2,050-degree torch and maintains just a pilot flame with the trigger is released.