AgrAbility News for March 2019
Maine AgrAbility Project news
Maine AgrAbility's Ellen Gibson presented an "Adaptive Gardening" class for the Southern Aroostook Soil & Water Conservation District (SASWCD) on March 5. She covered topics on how to continue gardening with barriers, how to work smarter & conserve energy, and a discussion of simple ergonomic techniques. She also had a show and tell of favorite tools, with SASWCD raffling off a garden rocker at the end of the event.
---
Other activities this month included an AgrAbility 101 presentation to rehabilitation clients at Maine Center for Integrated Rehabilitation in Fairfield, and a discussion with a Kennebec Valley Community College (KVCC) OT professor to talk about OT students working with AgrAbility farmer clients. Staff also exhibited program information at the Maine Grass Farmers Network conference at KVCC in Hinckley and exhibited and presented a "Gardening for a lifetime" workshop at the Healthy Living Days event at Longfellow's Greenhouse in Manchester.
---
Maine AgrAbility partners participated in a 60-minute radio show about AgrAbility with Tory Ryden called Positively Maine.
---

Richard Brzozowski finalized a new publication that is now available: "Tips for Aging Farmers"
---
Staff had an excellent time gaining knowledge and insight at the NTW in Nebraska. It was excellent to share this with eight program-related staff and four Maine farmers.
National AgrAbility Project News
Thank you to Nebraska AgrAbility, the NTW 2019 Planning Committee, and each of you that contributed to making NTW 2019 a success! Attending the event were 247 individuals representing 33 states and two countries. There were 70 speakers, 52 sessions, 19 exhibitors, and 6 tours to keep everyone occupied for four days. In the audience were 19 individuals that shared their veteran status, 8 students, and 56 farmers who joined us with the assistance of stipends made available through generous donations and fundraising efforts.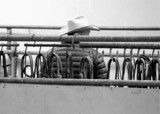 They say it takes a village, and it seems AgrAbility has a great one! While the NTW has been home to raffles, a silent auction, and live auction to raise funds for farmer stipends, on a couple of occasions staff have reached out to attendees to raise funds for special causes. This year, as much of Nebraska was battling floods and the damage resulting from high water and large ice chunks, staff called on everyone to do their small part to help. A total of $1157 was raised for Nebraska farm relief. Thank you! The raffles and auction items again included fantastic donations and will result in close to $10,000 in farmer stipends available for the 2020 NTW.