Arthritis and Agriculture
A Guide to Understanding and Living with Arthritis

Arthritis and Agriculture (PDF) — A 23-page brochure focused on agricultural workers that discusses such topics as:
common types of arthritis,
managing arthritis,
unproven arthritis remedies, and
sources of assistance.
Since this publication is designed specifically for agricultural workers, it gives advice on methods of modifying farm and ranch tasks to provide added protection to joints.
The publication also emphasizes proper diagnosis, exercise, medication, stress management, and working with a team of professionals to cope with arthritis. A variety of organizations are listed for those wanting further assistance with arthritis or disability-related issues.
---
Arthritis and Gardening: A Guide for Home Gardeners and Small-Scale Producers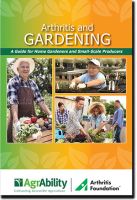 Gardening is one of America's most popular hobbies and a significant food source for many. However, for those with arthritis and other other musculoskeletal conditions, like osteoporosis, common gardening tasks can be difficult or impossible. This 23-page booklet covers topics like arthritis basics, gardening pre-planning, tools and accessories, overall health, pain management, and small scale fruit and vegetable production.
Contact us for information on obtaining paper copies of this and other publications.
---
Arthritis & Agriculture — USDA-sponsored program that assists farmers, ranchers, other agricultural workers, and family members impacted by disability.
The Arthritis Foundation, Indiana Chapter is committed to being involved as a four-year nonprofit, disability-related partner supporting the mission of the USDA National AgrAbility Project. Our goal is to provide education and support of agricultural professionals and their families who have been affected by arthritis so that a farmer, rancher, or farm worker may continue to live a productive life in agriculture.
Assistive Devices & Tools (PDF)
6 Quick Tips for Arthritis Pain Management
Wear protective gloves and sturdy work boots to help support joints.
Exercise to reduce pain, increase movement, strengthen the joints, and maintain a healthy weight.
Take breaks and alternate hard tasks with easier jobs.
Use a wheeled cart for heavy items.
Use the strongest joint when lifting and use longer handles when reaching.
Discuss alternative therapies, medications and self-management with a local health clinic.
Tips for Choosing Helpful Tools
Make sure the tool is small and lightweight.
The tool should be portable.
A tool that is able to be attached to a belt loop or tool belt is helpful.
Look for a tool that is not too expensive to purchase.
Choosing tools that have adjustable grips and sizes allows them to be shared.
Arthritis Limitations for Farmworkers
Arthritis means "inflammation of a joint," which can cause swelling, redness, pain, and loss of joint use.
It can make working much harder for farmworkers. Repetitive bending, kneeling, picking, and carrying increase arthritis pain.
There are several smaller, portable tools and devices that can be very helpful in managing arthritis pain.
A farmworker does not have to have arthritis to use an assistive device or tool.
It is better to try to prevent arthritis pain before it occurs.
---
Webinar: Arthritis and Agriculture: The importance of protecting your joints (recorded: June 2, 2020)

Farmers lose quality-of-life because of chronic pain, aching, stiffness, and swelling in and around the joints. Making small changes in their working routines and using Assistive Technology (AT) can significantly reduce injury to the joints. Please join this discussion of Arthritis, the prevalence of the disease in farmers, and possible modifications to reduce its effects.  Watch the webinar here.
---